In the Wikipedia pages on Kottakkal, there is a mention of Amrutabhashini . I quote ," The development activities of women included modern publications such as Amritha Bhashini and Bala Chandrika, published by Kovilakam". I do not know about Balachandrika but I have gained, while going through my mother's papers, two volumes of Amritabhashini. (I am trying to digitize them)
These two volumes were produced by the Thampurattis of Kizhakke Covilagam more than 70 years ago. The fading pages of the handwritten journal are the fading footprints of a laudable literary effort!
Few in Kottakkal or indeed in our own family, would know much about Amrutabhashini. I do, because as a child of eight, I saw it shaping up at the hands of the original enthusiasts, often in our room with the active involvement of my mother. The two volumes I have are Vol 1 Book 1 of 1116 Thulam (Oct-Nov 1940) and Vol 2 Book 1 of year 1116 (Feb- March 1941). In these two volumes I see among the contributors the names of K C Anujathy Thampuratty, K C Kunhi Anujathy Thampuratty, K C Kunhi Thampatty, K C Cherimpatty and K C Kuttympatty. Some of these names I can make out, like Kunhi Anujathy Thampuratty, who had deep literary and artistic interests including music, dance and kathakali which she persuaded her children to pursue. And Kunhi Thampatty and Kutty Thampatty, sisters of the present Zamorin.
Although the prime movers were the ladies of our family, the circle widened to include others in and outside the Covilagam. Among the contributors were P V Krishna Warrier, Sharma, the Sanskrit teacher at the High School, Mrs. P K Warrier, Sankara Warrier who used to teach Sanskrit at the Covilagam and C T M Nambudiri, I think Mangaat Nambudiri, a respected Sanskrit scholar. K C Kuttunny Raja who taught at the High School wrote for the journal and of course, K C U Raja wrote three articles in Hindi- two on Tagore. He was my mentor while I was in Kottakkal, an excellent teacher and for a long time the Head Master of the High School.
The first volume had 12 articles and the second 15 and these showed the primary concerns of the founders. Writings focused on the freedom movement, on Gandhiji and Tagore, on women's status and disabilities (an admirable awareness) and a strong protest against animal sacrifice ostensibly to please the gods. There is a poem on Gandhi jayanti ( P V Krishna Warrier) and a write up in Sanskrit on Kalidasa ( Sharma of the High School). I reproduce thefront page of Vol 1.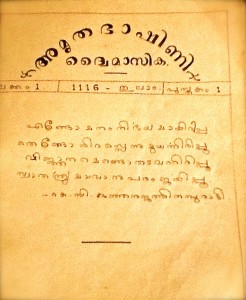 Apparently Amritabhashini celebrated an anniversary, perhaps the first, in 1940, which suggests that it was founded 75 years ago. , Amrithabhashini Varshikotsavam, as they termed it. The presidential speech given in Sanskrit by my mother, K C Mahadevi Thampuratty ,is reproduced in Vol 2.
Standing tall among the contributors was one person, the best Sanskrit scholar in the Covilagam during that period. She is Kunhanujathy, the senior most among the contributors, Valiamma to me and to Cheriakunhunny Ettan, the present Valia Thampuran ( his mother's eldest sister.) A short four line verse of hers adorned the front page of every issue. I think it is legible in the reproduction I have given in these pages.
Amritabhashini  continued its work for some years. How long Amritabhashini lasted and why it called it a day we do not know. Sadly, none of the founders or even contributors is alive to tell the story. Perhaps, after the partition of the Covilagam, members were spread far and wide and were too involved in sorting out personal issues. Perhaps, the initial enthusiasm could not be sustained. We only know that a very laudable effort by a young group of Kottakkalites led by our own ladies faded away without leaving a lasting imprint on the shifting sands of time.
Amritabhashini lit a candle , but was snuffed out by time and circumstance, unsung, unnoticed and unrecognized. Nevertheless, we are proud that it happened.