Family Reunion-May 11, 2014
The Kizhakke Covilagam family reunion I attended in 2010 was my first experience of attending the annual family meet, started ten years ago. I attended it a second time the following year and then again this year. For the first time a Zamorin was present.
He is UnniAnujan Raja from Kottakkal who had become the eldest member only a month ago. He was felicitated and went on to preside over the function.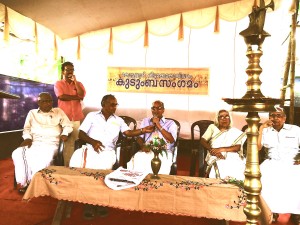 This reunion did not differ much from the ones I had attended earlier, although I got to meet some faces after a gap of over twenty years and many for the first time. One of them recalled that he had met me last at the time of my wedding- fifty years ago. Time and age had changed his as well as my appearance and we would not have recognized each other , had we not been introduced! There were others younger to me by more than ten years whom I met for the first time.
How the old joint families have crumbled.! In the thirties and early forties, when I lived in Kottakkal, we were more than a hundred members living together in a huge complex, with a common kitchen and enjoying a sense of community, insured against personal calamities by shared values and commitments. The family was the insurer, the ultimate protector. We lived a communal existence-the word communal in the best sense of he word and not in the derogatory sense in which it is used today.
Of course, the joint family had its own problems. It was a sequestered living, somewhat cut off from the realities of the world around us. We had our quarrels which ultimately proved unsustainable and led to partition of its assets. In a way it worked to transform us from a leisure class into achievement oriented strugglers. Each family unit was thrown on its own, and although it was hard on some of them, it made them more determined to succeed in life. The children took keener interest in education. We were no longer the privileged ones, we had to compete and competition brought out the best in many. They went to far flung corners to eke out a living.
I was told that we had a total of 195 members. Together with spouses and children of male members, the extended family would easily exceed 500.We have our members today in far flung corners , as far away as Cleveland and as near as Malappuram. In fact only five families live in Kottakkal today.
The present generation will scarce remember the days when girls were not allowed by the family to go beyond the fifth standard. I do. Mine was the first batch- when two girls entered the first form- sixth standard along with me and two other members of the family. It is a matter of pride that we have in our family today girls who are medical doctors, chartered accountants, MBAs and engineers.
In a reflective mood, I left the reunion with the feeling that the charm of old Kottakkal was gone. But then I had to pull myself back and realize that it was all a trade -off between tradition and modernity, continuity and change and a romantic past and a promising future.